"Welcome to our DeepReplica Online store" is the greeting message that welcomes all visitors to this site. Deepreplica.nu refers to online stores that offer replica watches. The first thing to know about it is that it proposes one single brand: the Rolex. So, all watch enthusiasts seeking this brand can consider it a source, while those who embrace other brands will have to continue looking for replicas in other online stores.  
Before making a decision, I encourage you to read this piece of information. Here I will try to summarize all the important aspects so that you understand whether you resonate with this seller or not. Some watch aficionados look for cheap replicas, in disfavor of quality, while others are ready to pay a lot of money just to own a sustainable and durable watch. In the same context, some online stores reflect their professionalism through an impeccable web design, while other stores disregard the importance of an intuitive site structure. As a result, through the site, you can conclude how serious a seller is and trustworthy his services are. So, take your time to investigate carefully to find the best site for you. 
What kind of watches does deepreplica.nu offer?
Everybody knows that the replica industry is extremely extended across the world and there are different types of quality grades. Watch enthusiasts deservedly consider the Swiss replica industry as the best one, while the Asian is categorized as medium to low quality (depending on the manufacturer). As for the deepreplica.nu, in particular, it is one of those stores selling Swiss replica timepieces exclusively. To be more specific, all the components of these watches are manufactured in Switzerland, from the most unimportant details to their movements, crowns, and bracelets. In such a context, this online shop offers watches with top-quality 904L stainless steel, SuperLuminova Swiss illumination, scratch-proof sapphire crystal, and solid gold 18K wrap, among other characteristics. 
In compliance with the information from the online store, deepreplica.nu is a Swiss watch factory located in Geneva as well as a world-leading manufacturer. It operates with all the countries in the world, exporting mainly to Europe and the US. According to the seller, this site has the most optimal prices since it is the only manufacturer selling directly to the customer without involving intermediates. 
Watch collection of deepreplica.nu

 
This store has taken the challenge to offer only Rolex replica timepieces, unlike many other online sources with plenty of brands in their portfolio. On the other hand, even though the number of brands is limited, this store claims to offer the best replica watches. Therefore, it aims to provide quality, instead of quantity. From this site, you can choose one of the following Rolex collections: Submariner, Sea Dweller, GMT-Master II, Datejust 41, Datejust II, Datejust 36, Day-Date 40, Daytona, Explorer, Milgauss, Yacht-Master, and Air King. You can find Ladies' Watches and Rolex Box sets as separate categories as well. 
Some categories are pretty rich in models, while others are more restrained. For instance, there are about 24 models for the Submariner, while the Air King portfolio contains only one model. Similarly, the Datejust 41 collection features about 77 models, while the Datejust 36 has one single item. So, all you have to do to get familiar with all the collections and their models is to access the E-shop section from the main menu bar. The page will display all the available collections and their quantity of models in parenthesis. 
UI and UX of the website
For those that are unfamiliar with these abbreviations, know that UX refers to the User Experience of navigating a website or an app. On the other hand, the UI refers to the User Interface and describes the grade of how easy and intuitive the website is for the traditional customer. If a store has a complicated structure and involves plenty of steps to complete for placing an order, the UX is not pleasant at all (in very simplistic words).
As for the deepreplica.nu, I can say that both UX and UI are at a pretty high level. The website looks clean and has plenty of informative sections to educate the customer about the watch realm.  For instance, the homepage includes a section showcasing the basic structure of a watch. Therefore, a customer with limited knowledge about a watch's anatomy will easily understand where a watch rotor is placed or what is a day-date wheel. In addition to this information, the seller adds some quality detail. For example, the picture shows where the crown is placed and specifies the grade of its quality by adding a small description: "screw-down with triple rubber seal". As a result, any customer understands right away the structure of the watch and the level of its quality.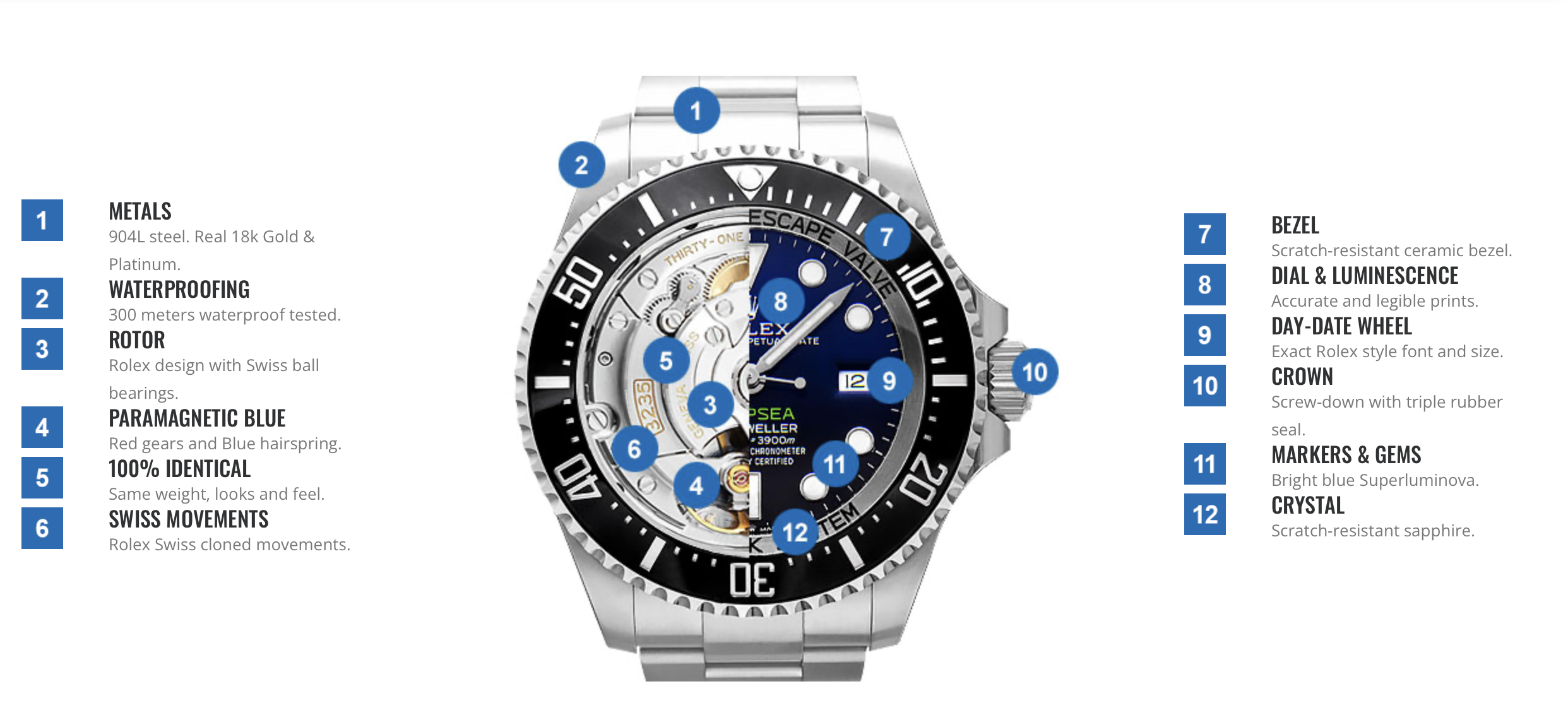 Further on...
The homepage contains an introduction video exposing the beauty of a Rolex replica watch. Even though the video is short, it has a positive impact on new customers and creates a feeling of trust. However, the video promotes a replica store with another domain: "deepreplica.dj" instead of "deepreplica.nu". I googled deepreplica.dj and it leads to the same store. 
Down the homepage, visitors can explore a table featuring the benefits of deepreplica.nu compared to other online replica shops. The chart looks quite promising but a little unfair, though. For instance, it says that replica watches from this site feature real moissanite diamonds while other stores do not. This is only partially true; most sites do not have this benefit indeed, but this store is definitely not the only one that provides this benefit. You can do your own research on most rated stores and discover plenty of other sources providing the same benefits. 

On the other hand, the pictures from this store look great. Moreover, they are real pictures of the watches provided by this seller. Most replica stores use stock pictures to showcase their watches and buyers discover they look different when they receive their orders. In contrast, deepreplica.nu takes professional pictures of their watches and customers can be sure that these look identical to those that they will receive. 
Store simplicity
I like how simple and intuitive the structure of the homepage is. Generally, the homepage is a business card of this store. It exposes the advantages of buying from it. If you compare this homepage to others, you will discover that most Asian shops use their homepages simply as a listing. All the homepage is full of watches for sale, without offering insights about the watch quality or manufacturing details. In contrast, this store explains all its particularities and benefits and only after the customer gets familiar with them, he is invited to explore the E-Shop. 
Warranties and Returns
deepreplica.nu has pretty transparent informational support referring to the return and warranty policy. To explore all the details regarding this matter, the users can click the warranty & Return link from the bottom of the homepage. In general terms, all replica watches from deepreplica.nu come with a standard 2-year warranty period. The warranty is applicable at the international level through authorized Swiss service centers. Warranty is not applicable in case of damages caused by abusive use, exposure to extreme temperatures, hard impact, or exposure to strong magnetic conditions. In addition, the warranty does not cover damages following unauthorized repairs. 
Customers can test the replica watch for 7 days after receiving it. The vendor assures us to issue a refund whenever the customer decides to return it within 7 days, without any questions. To return a replica watch, the original plastic wraps must be intact. Customers that opt for extra gold or extra platinum orders don't have the privilege to request refunds since these are considered custom orders. In general terms, the refund takes about 2 weeks to be processed. 
Waterproofing
Deepreplica.nu proposes two kinds of replica watches: 100 meters of water resistance and 300 meters of water resistance. Basically, all watches are 100 meters waterproof. All diver models come with a 300 meters waterproof capacity. The vendor recommends testing the replica watch regularly in case the owner exposes it excessively to water conditions. In addition, the seller strongly suggests avoiding steamy environments such as spas or saunas. In hot temperatures, all watches (regardless of their quality or country of origin) may expand or contract, generating a vacuum impacting the protective mechanisms of the watch. 
Price range
All watches from deepreplica.nu are no less than about $1,000. To be more specific, I'll bring some examples. The GTM-Master collection begins at $1,149 to $1,349. The Submariner line also begins at $1,149 to $1,394. The Datejust models are all at $1,194. 
Customers have the possibility to add complementary services to their orders. First of all, they can benefit from a 25% discount whenever paying via Bank Wire, Western Union, or Bitcoin. Second, they can add a special Warranty Card with an infrared hologram for an additional $50. Unlike other Swiss replica stores, deepreplica.nu doesn't involve the option to add an additional 18K gold coating. 
Payment and Shipping
deepreplica.nu offers free shipping to all its customers. After placing the order, the customers receive a tracking number to monitor the delivery process. All the packages must be received personally and confirmed via signature. Delivery to a PO Box is not possible. After being dispatched, the order arrives within 10 to 14 days, with small variations due to courier service nature. Apart from the band and Western Union transfers, this shop also accepts card payments as well. PayPal payments are not possible since the organization does not support sales of replica goods. 
Personal insight
deepreplica.nu seems to be a pretty reliable store with qualitative items. On the other hand, it is not likely that the prices are attractive for replica buyers. All replica watches at higher than $1,000 are considered expensive enough. As a result, only people ready to pay more than $1,000 for a replica watch are the target persona of this store. 
Sad to mention that apart from the high prices, there are no offers available. Usually, replica stores propose interesting and attractive loyalty programs to catch the user, given the hard competition in the industry. Here, the only discount I have discovered is the 25% off by paying through Bank, Western Union, or Bitcoin. In my humble opinion, it would be great to offer a promotion or discount for the rest of the customers who prefer to pay via credit card. 
On the other hand, the watch collection is attractive enough. Even though some collections have only 1-2 models, other collections are rich in models and customers have a lot to choose from. It is a little bit sad that Ladies have only one option for them so I would be glad to see in the near future that the female collection gets rich with many other models as well. There are so many beautiful Rolex models for ladies so it's a pity to have only one available in the store. 
Overall, the navigation process is intuitive enough and the web design is attractive and pleasant.